You have been hired as a financial analyst by Maybank Berhad. Your task is to analyse the present financial condition of Petrox Berhad. You are provided with the following 2021 Statement of Financial Position and Statement of Profit or Loss information for Petrox Berhad. In addition, you are told that Petrox Berhad has 12,500,000 shares of ordinary shares outstanding, currently trading at RM11.25 per share, and has made annual purchases of RM262,500,000.
PETROX BERHAD
Statement of Financial Position as at 31 December 2021 (RM)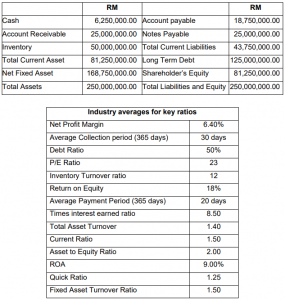 You are required to calculate 5 blocks of financial ratios and to compare these calculated ratios with the industry average ratios that are provided. Your analysis is based on five categories of ratios: (a) liquidity ratios; (b) activity ratios; (c) debt ratios; (d) profitability ratios; and (e) market ratios. Besides, you have to determine the financial position for Petrox as a stand-alone company, you are also required to compare these ratios to the industry average ratios provided in the problem.
Requirements:
a) Based on the provided industry-average information, discuss Petrox Berhad's liquidity position by comparing with the overall industry performance.
b) Referring to data provided for industry-average information, analyse Petrox's activity ratios and the overall industry.
c) Discuss debt and market position for Petrox Berhad's and industry-average.
d) As part of this investigation, you are required to include profitability ratios and DuPont analysis in examining the profitability of Petrox Berhad and overall
industry.
e) One of the main conditions for loan approval is company should be in a betterthan-average financial position. Recommend your decision whether to approve or deny the loan application from Petrox Berhad by looking at overall financial performance. Explain the Petrox's strong and weak points.
Answer to Above Questions
The analysis of liquidity position of a company can be possible by way of considering the current ratio and quick ratio, as they indicate the ability of the company to meet its current application out of its current assets. In the given case scenario of Petrox Berhad, the calculation of current ratio and quick ratio is performed to analyse its liquidity position, and the industry ratios are also given which provides a good comparative analysis of its performance compared to industry performance. The current ratio of Petrox Berhad indicates that …… Get completed solution in the form of financial analysis of Petrox Berhad as carried out by the
accounting assignment helpers
available at Student Life Saviour Malaysia.
---
Content Removal Request
If you believe that the content above belongs to you, and you don't want it to be published anymore, then request for its removal by filling the details below. It will only be removed if you can provide sufficient evidence of its ownership.