QUESTION 1 [3 marks]
Consider the following complaint to the BCCSA: "On 8 January 2015 between 18:00 and 18:30 during the airing of the comedy series Bad Teacher on Mnet, a Carte Blanche advertisement, graphically displaying the abuse of a Welkom nanny on a 7 month old baby was aired."
Which of the BCCSA Codes regarding "Children" was violated in this instance? (1 mark). Explain your answer (2 marks).
QUESTION 2 [30 Marks]
Kasoma (1994) conducted research on the transition of African countries into democracy and the impact of this on the role of the media. His paper explores whether ethics in Africa can be successfully enforced by law or by journalists themselves. In Unit 3b, we discussed his specific arguments for and against state regulation of media. In a short essay, you are asked to apply his arguments about the state regulation of journalism to the current debate surrounding the Films and Publications Amendment Act of 2019 (which we discussed in the Blackboard Collaborate class for Unit 4b). If you did not attend the BB Collaborate class for this unit, I recommend reading up on the arguments for and against the Amendment
Here is a brief summary of the Amendment Act: The Films and Publications Amendment Act of 2019 extends the Films and Publications Act of 1996 by bringing the classification system to online content. It stipulates that commercial online content distributors have to submit content available on their platforms for classification by the Films and Publications Board. Essentially, it requires individuals/organizations to submit content to be pre-approved before posting it on social media.
Your essay should have an introduction, body, and conclusion. In the introduction, present the issue at hand that is being debated (the classification system of the Film and Publication Board being applied to online content). In the first paragraph of the body, you will use Kasoma's arguments in favor of state regulation to argue for the regulation of online content. Be sure to apply TWO (2) of his arguments in your own argument in favor of state- regulation. In the second paragraph of the body, you will use Kasoma's arguments against state regulation to argue against the regulation of online content. Be sure to apply TWO (2) of his arguments in your own argument against state-regulation. Your essay will be marked as follows:
Introduction, Conclusion, and writing quality
10 marks
Argument in favor of regulation (while using Kasoma's arguments to

support your own)

10 marks
Argument against regulation (while using

Kasoma's arguments to support your own)

10 marks
QUESTION 3 [17]
In Unit 4 we discussed the 4 roles of Read the excerpts below and identify which "Role of News Media" is being fulfilled/demonstrated. (2 marks each)
(Media Update, 2017)
There have been many notable instances where the SABC has proven itself guilty of self-censorship. Controversial cartoonist, Zapiro was set to have a television interview aired on one of the SABC channels, but after being filmed, the interview was later cancelled. Zapiro had previously been threatened with court action by President Jacob Zuma for depicting him in a bad light in a few of his cartoons. Speaking in the interview Zapiro said, "Even in the interview it felt like I was being pushed into having to say something positive about the president."
Former SABC television presenter, Eusebius McKaiser, resigned from the SABC, citing government interference as being the driving force behind his decision. McKaiser had been a presenter on Interface. Speaking on the ruling partners influence on the broadcaster McKaiser said, "There were no regular calls from politicians or Luthuli House to the SABC (so far as I know). But politicians do not need to call the SABC." McKaiser then continued, "Self-censorship on the part of a sufficient number of employees suffices to keep our politicians happy.
Was BuzzFeed Right to Publish Accusations Against Donald Trump?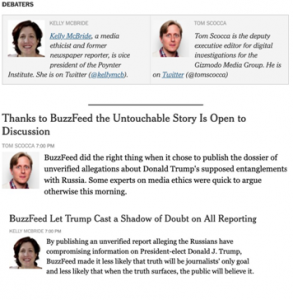 3.1.3. (SABC, 2022)
Seven political parties represented in the coalition that is currently governing in the City of Johannesburg have opened a case of corruption and bribery against the African National Congress (ANC).It's alleged that a R150 000 bribe was offered to some councillors who are members of the coalition, by ANC councillors for votes in support of removing Mayor Mpho Phalatse.
The Hillbrow Police Station in Johannesburg was ablaze with political party leaders and members wanting to try by all means to avert the vote of no confidence against the Mayor.Taking their plight to the Hillbrow Police Station, these seven political parties in a coalition in the City of Johannesburg include the DA, ActionSA, FFPlus, Patriotic Alliance, IFP, ACDP and COPE.
3.1.4. (Mail & Guardian, 2022)
Thomas Piketty: Direct wealth distribution needed to fix SA's extreme inequality
It will be difficult to solve South Africa's extreme inequality problem without more direct wealth redistribution efforts, according to French economist Thomas Piketty. Despite massive redistribution efforts after 1994, Piketty noted, South Africa's inequality problem has shown little sign of subsiding. According to the 2022 World Inequality Report, inequality in South Africa has been extreme throughout the 20th and 21st centuries.
3.1.5. (IOL, 2022)
Durban — The National Union of Metalworkers of South Africa (Numsa) said that inequality, capitalism and the high rate of unemployment of women in South Africa had made this country a war zone for women.
Numsa said it supports the demands for increased funding for shelters, community- based services, greater mental health interventions, and increased economic support for victims of abuse and sexual violence.
3.1.6. (City Press, 2022)
An ANC top official allegedly scored 55 contracts amounting to R14.5 million from Tembisa Hospital in the last three years for cleaning materials, protective clothing, medical consumables, office supplies and groceries.
In a written reply to the Gauteng legislature on Tuesday, provincial MEC Dr Nomathemba Mokgethi said the tender was awarded to three companies belonging to Sello Sekhokho, who is the treasurer-general of the ANC' Ekurhuleni region.
DA's Shadow Health MEC Jack Bloom said it was strange that Sekhokho's companies sold such a variety of goods to the hospital, including cleaning materials, office supplies and even groceries. Blood said:
"And it is suspicious that all the payments are less than R500 000, which means that they don't go out on tender and are signed off by the hospital CEO."
Which of the 4 roles of media do you think is most important, and why? Argue your case in 1 full paragraph. (5 marks)
Answers to Above Questions
Answer 1: There are specific codes that have been built up by BCCSA in respect to the protection of children. It is important for all the TV broadcasters to comply with BCCSA codes while airing their advertisements. There are different rules in order to protect children from inappropriate advertisement and one such rule is watershed rule which allows for broadcasting of adult material during times when children are not likely to be part of the audience from 20h00 to 5h00. In the given case scenario of airing  of comedy series Bad Teacher on Mnet, a Carte Blanche advertisement, which includes displaying the abuse of a Welkom nanny on a 7 month old baby has resulted in the violation of BCCSA code of …… Student Life Saviour South Africa offers assistance in South Africa in all subjects including communication management at affordable prices.
---
Content Removal Request
If you believe that the content above belongs to you, and you don't want it to be published anymore, then request for its removal by filling the details below. It will only be removed if you can provide sufficient evidence of its ownership.